Why STOPAIN® CLINICAL Pain Relieving Products?
Stopain® Clinical's fast-acting formula delivers fast, temporary relief from minor muscle and joint aches and pains associated with simple backache, arthritis, strains, bruises, and sprains. Formulated with the proven pain-relieving benefits of menthol (10%), it also contains dimethylsulfone (MSM) and glucosamine to support joint health and mobility.
STOPAIN® CLINICAL VS. BIOFREEZE PROFESSIONAL
Stopain® Clinical contains twice as much Menthol as Biofreeze Professional Gel and Roll-On.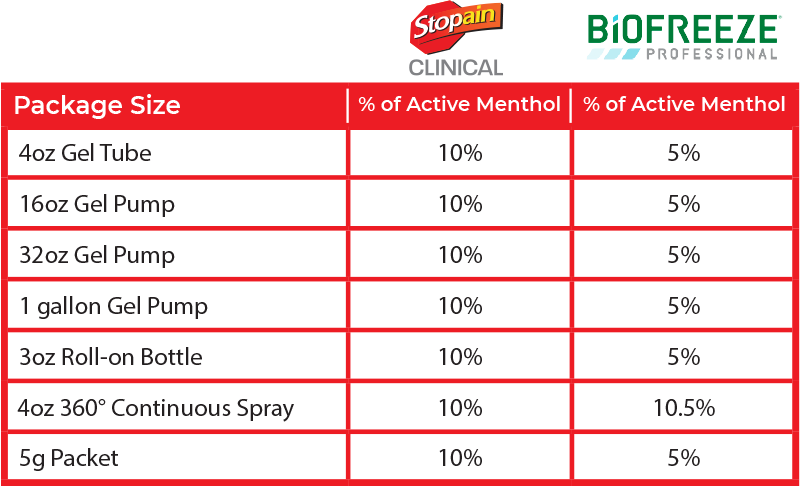 Quality Ingredients
Pharmaceutical grade ingredients combined with 10% total menthol, MSM, and Glucosamine provide an optimized topical pain relief experience.
Innovative Topical Technology
Cutting edge polymer technology provides the clinician and patient with maximum performance pain relief as a result of its penetration enhancers and sweat resistant technology.
Superior Application
Combination of skin moisturizers and a proprietary gel formulation leave the skin moisturized and clear of any residue making it the ideal solution for use with complementary therapies i.e. kinesiology tape, massage devices, and other soft tissue tools.

"I love Stopain® Clinical because my patients love Stopain® Clinical! Previously, we carried Biofreeze, and then it went retail, so I was happy to find Stopain® Clinical. I was thrilled to hear that our patients who loved BioFreeze, now love Stopain® Clinical even more. Their feedback is unequivocally positive. It is stronger and works better for their pain. I am happy to carry Stopain® Clinical in our PT clinics."
"Stopain® Clinical is working amazingly well for our patients. It has higher level of menthol along with MSM and Glucosamine which does wonders for aches and pains. Stopain® Clinical gel is one of the go to treatment strategies we employ regularly in our practice."
"I have been a Chiropractor in PA for 23 years. I carry Biofreeze products and have not had any other product that worked as well or sold as well until now. Stopain® Clinical has immediately reduced and almost replaced my sales of Biofreeze, and increased my overall sales. Patients actually ask for the Stopain® Clinical product instead of the Biofreeze. Stopain® Clinical products have been flying out of my office ever since I started handing out samples. One day I ran out of Stopain® Clinical spray, and we offered the patients the "more expensive" Biofreeze spray for the same price, and the patients didn't want it. They chose to wait until my Stopain® Clinical spray came in!"